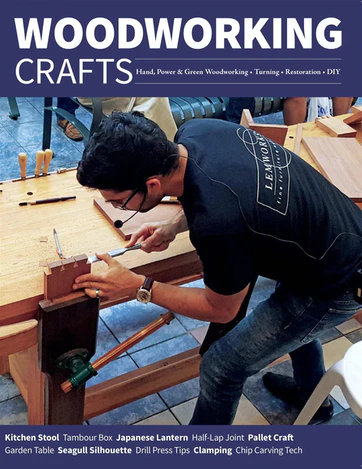 Woodworking Crafts 61 (May 2020)
English | 124 pages | PDF | 23.6 MB
Code:

https://mega.nz/file/r7B21QpK#Tr5y_S9SYZVQKQPJ4ih7_Vt4sFQVWMBwXMG2rxnCIkU

jullius




Number of posts

: 94


Registration date

: 2018-11-26


Age

: 56


Location

: South Africa


Job/hobbies

: Woodworking, Distilling



matiu, Guareguao, emad eldien, clarkc, caramello67, albertolucas and goliaff like this post
I have the honor to follow this wonderful and distinguished site .. I am happy with everything new that is presented by loyal people .. I hope that I will not be annoying if I ask you to kindly raise the numbers 59 and 60 of the magazine preparation series
Woodworking Crafts .... Thank you very much

emad eldien




Number of posts

: 2


Registration date

: 2011-12-28


Age

: 67



emad eldien likes this post
Welcome to the site, probably the best woodworking pdf site in the world.  The two magazines your are looking for is not available on any free site and I guess no one here is willing to pay $13 to get them from the sites that charges for them.  When I have 'missed' I couple magazines in the past I don't mind spending money and sharing with everyone, at the moment I can't afford it.

jullius




Number of posts

: 94


Registration date

: 2018-11-26


Age

: 56


Location

: South Africa


Job/hobbies

: Woodworking, Distilling



emad eldien likes this post
These two have just been posted.

Froggy




Number of posts

: 65


Registration date

: 2009-03-23



emad eldien, caramello67, trevar and pete the french like this post
---
Permissions in this forum:
You
cannot
reply to topics in this forum